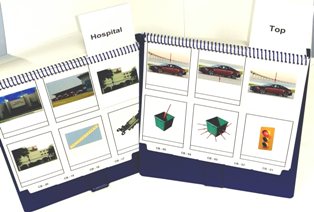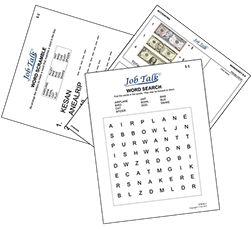 Job Talk is a computer program that has been designed to work seamlessly with most interactive whiteboards. Job Talk provides a unique learning experience by allowing students access to a vast list of vocabulary words associated with life, business and the world of work. Job Talk takes a unique approach to helping individuals tackle the myriad of words and reading found in everyday life and work.

Who Uses Job Talk?
Middle and High School Special Education Students


or students that function at low levels of reading and math.

Adult Transition Age Students


For students functioning at low levels of reading and math, Job Talk provides an emphasis on career and transition.

PAES Users


Job Talk is often used as a pre-requisite, or along-side PAES®

English Language Learners


For ELL "Level One Classrooms" and students to whom english is a new language
Many of the students that will benefit from Job Talk are not going to read books, let alone text books. They are, however, going to encounter the written and spoken word in everyday life, employment and leisure.

---
Get Hands-On
---
---
Get Hands-On
---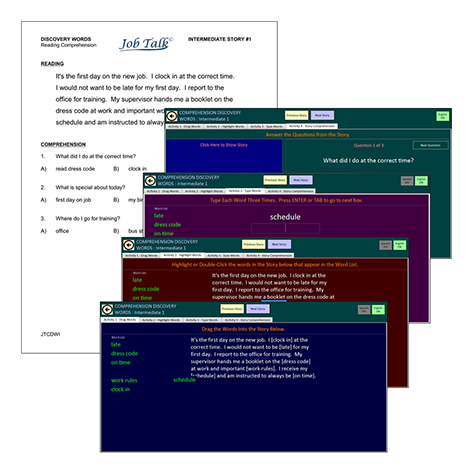 Manipulatives include:
Cash Box with Play Money
Quart Bottles
Half Gallon Bottles
Gallon Bottle
Measuring Spoons
Measuring Cups
Liquid Measuring Cups
Inch Rulers
Half Inch Rulers
Quarter Inch Rulers
Eighth Inch Rulers
Sixteenth Inch Rulers
Steel Tape Measures
Funnel
Analog Clock
Digital Clock
4" Analog Wooden Clock
Components and Manipulatives
Job Talk ships with 4 teaching components and a treasure trove of manipulatives that can be used with the components.
Flip Charts


Six groups of 5 flip charts to reinforce job vocabulary with extended practice using visual cues.

Word Searches and Scrambles


These fun activity worksheets to help reinforce word recognition and word/letter discrimination - and are available in basic, intermediate, and advanced levels.

Computer Program Component


Pre-defined and customizable lessons offer key vocabulary words related to the world of work and life. These lessons can be completed as group or individual work requiring mastery to completion. Full summary of performance reporting aids in IEP support and transition planning. Available in English and Spanish.

Flash Cards


Made available to you in both digitized and physical version, these flash cards can be used in both groups and individually to encourage learning of new words and concepts.
Manipulatives include:
Cash Box with Play Money
Quart Bottles
Half Gallon Bottles
Gallon Bottle
Measuring Spoons
Measuring Cups
Liquid Measuring Cups
Inch Rulers
Half Inch Rulers
Quarter Inch Rulers
Eighth Inch Rulers
Sixteenth Inch Rulers
Steel Tape Measures
Funnel
Analog Clock
Digital Clock
4" Analog Wooden Clock
---
A Variety of Differentiated Learning Strategies
---
---
Differentiated Learning Strategies
---
Program Features
Individuals improve essential communication skills
No animation - images are all real life photographs
Teaches by having individuals see and/or hear key words and real images in the context of everyday life and on the job
Age appropriate
Categories of Learning
Basic Career Words
Action Work Words
Employment Words
Life Skills Words
Practical Math Skills